The Coming Dollar Tug of War
(InvestorsAlley) – Battling over which direction the dollar will head in 2017, Trump and Yellen's respective policies will put the dollar into a tug of war scenario. To remove your portfolio's risk to whichever way the dollar may swing, purchase shares of the three stocks shared today that operate in a protected sector.
Boxing fans still harken back to Muhammad Ali's fights with Joe Frazier and George Foreman as some of the best fights ever.
We may not get to see another great heavyweight boxing fight soon, but there is about to be a legendary heavyweight fight in the financial arena.
Squaring off will be President Donald Trump and Federal Reserve chairwoman Janet Yellen. This battle will be fought over the direction of the U.S. dollar.
Trump Dollar Policy
Traders were taken aback when Trump, in a Wall Street Journal interview, said that "Our companies can't compete with [China] now because our currency is too strong. And it's killing us."
This statement threatens to upend two decades of U.S. government officials saying they support a "strong dollar" policy.
Foreign exchange strategists told the Journal, Trump's comments "raised the level of confusion on what policies we're going to get."
In my view, traders are missing what's sitting in plain sight in regards to Trump's dollar policy.
For years, he said that the currencies of countries like China and Mexico are too weak. The opposite side of that same coin is that the dollar is too strong.
A too strong dollar makes U.S. products and exports more expensive. That is a major obstacle reducing the trade deficit – a key Trump goal.
And then there's his campaign promise to create manufacturing jobs in the Rust Belt states that helped elect him. A strong dollar will "kill" that effort.
Some respected voices agree with Trump on the valuation of the U.S. dollar.
Fred Bergsten, a senior fellow at the Peterson Institute for International Economics says his calculations show the dollar – at a 14-year high – is overvalued by at least 10%.
The Fed and the Dollar
The dollar has soared by 22% just since mid-2014, and more than 6% since the election. That is at least in part due to Wall Street expectations that the Fed will steadily raise interest rates.
The thought about the Fed raising rates is reinforced by Wall Street expectations of fiscal stimulus from the Trump administration.
Trump wasn't even President yet, but the "fight" between the incoming administration and the Fed was already underway.
SEE ALSO: Cashing In on Trump's $1 Trillion Infrastructure Spending Spree
Shortly after Trump's comments, Janet Yellen was once again espousing how the Fed was in the mood to raise rates. And the dollar promptly reversed course and began moving higher again.
The dollar generally moves higher as rates do because money globally is attracted to the higher rates in the U.S. In essence, other currencies are sold and dollars are bought to enable U.S.-based transactions.
Confident the Fed will stick to its schedule of raising rates, Wall Street has loaded up on long dollar bets. As of January 10, Commodity Futures Trading Commission data showed about $26 billion in bets on a rising dollar – the highest level in about a year.
What Trump Could Do
Trump could fire back at the Fed and Wall Street by talking down the dollar more.
But then the Fed could quickly answer in a verbal tug-of-war. In fact, Blackrock CEO Larry Fink does see rising tensions between Trump and the Fed over dollar strength.
Besides getting into war of words with the Fed, which would greatly heighten global market turmoil, there are other actions President Trump could take to weaken the dollar.
He could have the Treasury Department directly intervene in the currency markets, but that threatens a large-scale heating up of the global currency war.
Perhaps Trump could, as suggested by analysts at Nomura, set up a sovereign wealth fund. Many of the dollars spent would be on foreign assets. In effect, this is selling dollars for other currencies.
A stronger possibility is turning to highly protectionist trade policies. A trade war would likely destabilize the dollar.
Sectors Affected by the Dollar
Some investors may wonder why they should care about the value of the dollar since they only invest in U.S. stocks.
You should care since it is probable that many of the companies you are invested in do a large portion of their business overseas.
There are three market sectors that immediately come to mind that are adversely affected by a strong dollar. These are pharmaceuticals, consumer staples, and technology.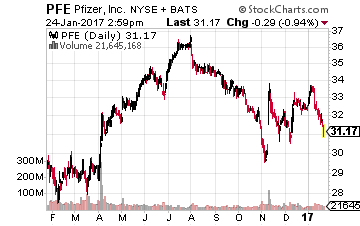 The world's top drug maker by revenues, Pfizer (NYSE: PFE), already warned that a strengthening dollar would be "a very big challenge" for the company in 2017.
Consumer goods giant Procter & Gamble (NYSE: PG) also chimed in, saying the impact of currency swings would "get more difficult" in 2017.
JJ Kinahan, chief strategist at TD Ameritrade, thinks tech stocks are the most vulnerable to dollar strength. Tech stocks such as Intel (Nasdaq: INTC), Texas Instruments (Nasdaq: TXN) and Qualcomm (Nasdaq: QCOM) derive more than 70% of their revenue from overseas.
The scary thing is that Wall Street analysts don't have currency effects included in their forecasts. For example, many analysts have Pfizer's revenue estimated at $55 billion, little changed from their estimate from six months ago.
Of course, if Trump gets his way and the dollar weakens, these same sectors will be the biggest beneficiaries.
Playing It Safe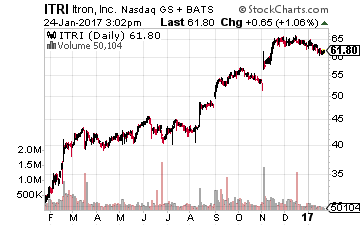 If investors want to avoid getting caught up in what could be a pretty rough tug-of-war between Trump and the Fed, then stick with companies that are domestically focused.
My favorite sector here is infrastructure, which Trump has made a priority for his Administration.
One could opt for a materials firm like Vulcan Materials (NYSE: VMC), an engineering firm such as Aecom (NYSE: ACM) or a smart
infrastructure play like Itron (Nasdaq: ITRI).
Then you could just sit back with a bowl of popcorn and watch the fireworks surrounding the dollar.
Trump's $1 Trillion Infrastructure Buildout Makes This Stock Great Again
With Democrats taking the first steps by introducing the $1 trillion bill on Tuesday the 31st and Trump reiterating his support again in his inauguration speech, massive infrastructure spending looks to be right around the corner. That's why Bret Jensen has put together a special report detailing one stock that currently trades for under $10 and would be one of the biggest beneficiaries of such a monumental, multi-year project.
With support from both sides of the aisle and a real public need, it's a safe bet that this will get this done, providing a windfall opportunity to growth investors who purchase shares in this stock today. Click here to learn how you can score 285% gains – or more – as America rebuilds their failing infrastructure.
510 total views, 1 views today