How to Profit from Trump's Infrastructure Boom
(InvestorAlley) – His landmark campaign promise to rebuild our country's infrastructure to the tune of $1 trillion is creating an investing goldmine. With a whole load of money about to fund new projects throughout the country, these two stocks should see a huge increase in business opportunities.
President Trump seems to be focused on five areas crucial to the American economy: tax reform, regulatory reform, the repeal and replacement of Obamacare, infrastructure, and trade.
The most crucial of these when considering the long-term health of the U.S. economy is infrastructure.
As I've discussed before, the latest "report card" from the American Society of Civil Engineers (ASCE) was abysmal. The overall grade was a D+ on everything from roads and bridges to water systems, waterways, gas pipelines, airports, railroads, ports, and power grids.
Just making the critically needed repairs will cost $3.6 trillion according to the ASCE. Here are just two examples:
The Department of Transportation estimates our nation's highways and bridges face an $808.2 billion backlog of investment spending, including $479.1 billion in critically needed repairs. It went on to say that more than two-thirds of the nation's roads and nearly 143,000 bridges are classified as being in "dire need" of repair.
The American Water Works Association says that the 237,600 water line breaks each year in the U.S. cost public water utilities about $2.8 annually.
The Good Old Days
Long gone are the days when infrastructure was the heart of American public policy.
People could actually see the government at work, improving the country and the economy. Examples were all around them, from the Hoover Dam (built in just five years) to the Los Angeles Aqueduct to our interstate highway system.
Taken together with the Space Race, our country's 20th-century infrastructure system helped make the U.S. a superpower.
But how things have changed.
Our country now spends less than it ever has on infrastructure. Economist Larry Summers points out, that if you adjust the figures for depreciation, the United States today makes no net investment in public infrastructure!
21st Century Infrastructure
That will hopefully change under President Trump. On election night, he said "We are going to fix our inner cities and rebuild our highways, bridges, tunnels, airports, schools, hospitals. We're going to rebuild our infrastructure, which will become, by the way, second to none."
And Trump has repeatedly signaled that infrastructure will be a priority in his administration's first 100 days.
Times have changed, though. Projects will require more than handing out shovels to the unemployed.
Of course, materials like concrete and steel will be needed. But a lot more is needed too.
21st-century transportation and water and energy infrastructure will also be built with better and more durable materials such as composites in some instances.
And importantly, the new infrastructure will be layered with "smart" technology that is enabled with sensors and broadband connectivity.
Companies at the Forefront
Here is one example of what I am talking about from the city of North Miami Beach.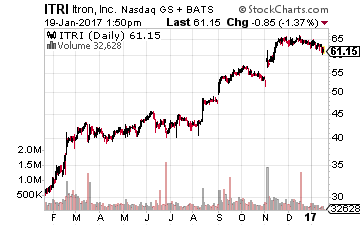 In 2015, we turned to a technology company focused on energy and water resource management – Itron (Nasdaq: ITRI).
Itron's advanced metering infrastructure (AMI) was selected to upgrade the water distribution system and ensure recovery of lost water. According to Itron, North Miami Beach has already identified and repaired 23 leaks. That saved 27 million gallons of water and $38,000 annually.
Multiply that over the thousands and thousands of communities across our nation and we're talking about real money being saved.
Moving on to transportation, the Department of Transportation estimates Americans spend 5.5 billion hours annually in traffic. That results in not only lost time for commuters, but an estimated wasting of $120 billion in extra fuel.
"Smart" infrastructure – networked traffic lights, roadway sensors and transportation management software – can help alleviate this problem.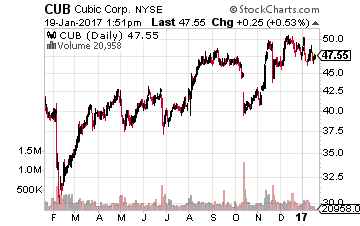 There are several companies in this sector. One such example is Cubic (NYSE: CUB).
One of its subsidiaries is CTS (ITMS) Ltd., which is a leading global provider of intelligent transport systems. It specializes in the development and supply of complex traffic management systems for the monitoring and control of urban and intra-urban road networks.
This includes integrated traffic and incident management, decision support, bus tracking, and passenger information through integrated user interfaces. The business also provides safety cameras and associated back office solutions. Cubic boasts a complete capability for the installation and maintenance of intelligent transport systems and equipment.
Cubic's subsidiary has contracts all over the world too. It is responsible, for instance, for over a third of the traffic lights in London, England.
Another plus is that Cubic is involved in the defense business, which may also see a lift from President Trump.
Bottom line – when looking for infrastructure stocks that will benefit under Trump, don't forget the technology side of infrastructure.
How to Tap Into the Riches from Trump's $1 Trillion Infrastructure Boom
To the tune of $1 trillion, Donald Trump is moving forward on his plan to rebuild and replace America's failing infrastructure. He stated this to America in his election victory speech and again in his inauguration speech in Washington, D.C.
He's serious about this and will get this done, providing a windfall opportunity to growth investors in one big construction company in particular. Click here to learn how you can score 285% gains – or more – as America rebuilds and my highest conviction infrastructure stock takes off.
2 Stocks to Profit from Trump's $1 Trillion Infrastructure Boom
579 total views, 1 views today