Death Cross Appears Ready To Claim New Victims!
 Savvy investors have surely noted that the S&P 500 Large Cap Index just hit the dreaded Death Cross Formation. It refers to the point where the 50-week moving average breaks below its 100-week moving average. And it's called the Death Cross for good reason. It's only happened twice before in the preceding sixteen years and brings no happy memories. It occurred in 2001, just prior to the Tech Bubble burst, with its corresponding market collapse and again in 2008, just prior to the banking debacle, which also led to a serious market crash. That's two strikes in as many attempts.
When currency and markets get into serious trouble, it's typically a good time to own and hold onto physical precious metals. Click here for a free digital download of The Next Wave – Understanding the New Gold Rush to see why gold may be a more necessary portfolio ingredient than ever before. And why there may not be much time to prepare for the coming downturn.
Here's the Cross and subsequent drop in 2001: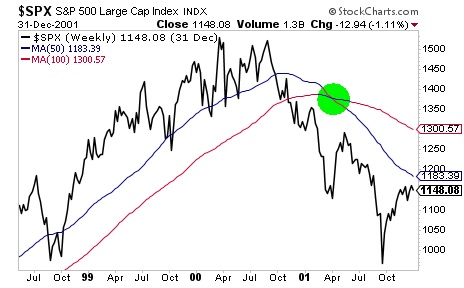 Here's the Cross and corresponding collapse in 2008: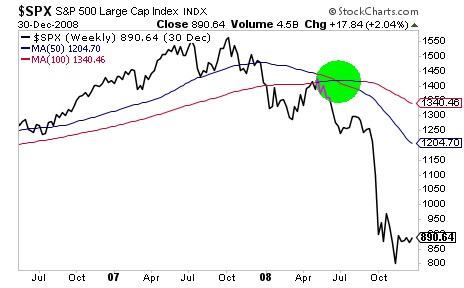 Here's the Cross that occurred yesterday and today's drop may just be the first of many: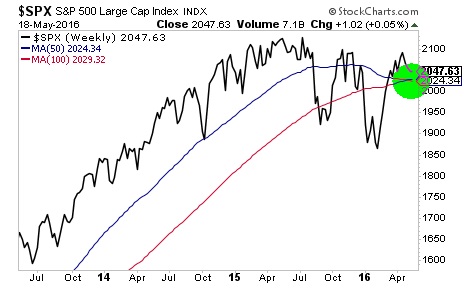 The Next Wave – Understanding the New Gold Rush is the book that announced this turbulence to be coming again. It's too late to take effective action, once everybody sees the writing on the wall. Demand and prices increase and availability decreases. Can you and/or your family afford to be on the outside looking in?
Want to Know What Gold Can Do For You?
Owning gold allows you to protect, hedge and secure your investments, your retirement and your future.
And it's a lot easier to get started than you might think.
687 total views, 1 views today