4 Safe Growth Stocks for the Risk-Averse Investor
(Investors Alley) – Investing in the stock market is all about taking enough risk to earn wealth-building returns but not so much risk that your money evaporates in one bad trade. For the investor looking to balance risk and returns, check out the four stocks shared today.
Over my next several columns, I am going to touch on several areas of the market that I believe will deliver good growth and reward investors in 2017. We will start with housing, a key part of the economy, as well as a huge job creator. If the country is ever to going to see three percent GDP growth or better on a consistent basis, the housing market needs to continue to improve.
This should be a core focus area of the new administration, which campaigned on restoring growth and the American Dream after the weakest post-war recovery on record. A whopping two-thirds of Americans spent the last eight years believing the country was heading in the wrong direction.
Many parts of the economy should benefit if the new political regime makes good on its promises to boost growth. Should the administration take an ax to the huge regulatory blanket that has been thrown onto the economy, housing will be one of the sectors that should benefit the most.
One place to start is tackling so-called "lot fees". Lot fees that fund school districts, sewer systems, government employee pension costs, roads, and infrastructure improvements have gone up significantly since the recession and can vary wildly across localities. The average lot fee in Houston is just $2,600 while the average lot fee in San Francisco gets an average $71,000 assessment. Think about that the next time a politician brings up the subject of "affordable housing".
Mortgage rates have spiked somewhat since the election but still remain very low on a historical basis. We have seen some big numbers recently for new home sales and housing starts. Last week it was reported that home builder confidence hit 11-year highs.
Household formation is back up above where it was before the financial crisis, which should mean years of pent-up demand as millennials move out of their parent's digs and individuals start to gain more confidence to buy a home. Many people still have lingering fears about 2008 happening again.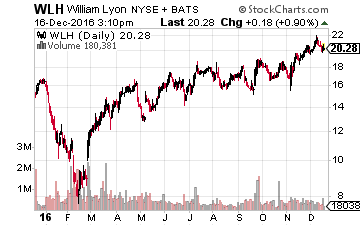 My most recent foray into the homebuilder space is with William Lyons Homes (NASDAQ: WLH). In the third quarter, the home builder delivered some standout numbers. New home revenue rose some 40% on a year-over-year basis as new home order deliveries increased 19% and the average selling price of each home increased an impressive 18%.
The company posted just less than a $1.50 a share in profits in 2015. This year, the homebuilder should deliver just over $1.75 in EPS. The current consensus profit range on WLH for 2017 is between roughly $2.35 to $2.55 a share on an approximate 20% year-over-year rise in revenues. With the stock selling at $20 a share, the shares are priced perfectly at eight times the median earnings estimate for next year. Home building is a cyclical business, but given this company's growth prospects, it does not deserve to be priced at less than half the overall market earnings multiple.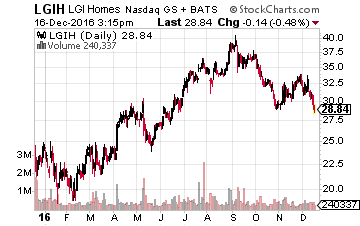 My favorite home builder continues to be an off-the-radar play based in the Lone Star State. It is one that I have mentioned often on these pages in 2016. LGI Homes (NASDAQ: LGIH) has delivered a 60% return to its shareholders this year, but the stock still looks cheap. The company now gets over 50% of sales outside its home state of Texas. Home closings are up some 20% this year. Next year, both revenues and earnings should grow at a 20% pace or better. Despite the rally, the stock sells for just over seven times the profit consensus in FY2017.  If we do get a pick-up in M&A activity in this fragmented part of the market, either company would be a great acquisition for a larger player.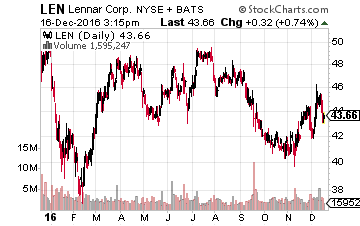 Speaking of which, investors looking for a larger, more diversified play in the space should feel good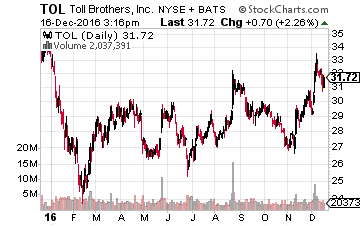 about Lennar (NYSE: LEN) or Toll Brothers (NYSE: TOL) at current trading levels. Both are very well-run companies with more than solid balance sheets. Although a bit more expensive and with slower growth than the two smaller builders above, they provide greater geographical diversification and match the performance of the overall housing market.
They are also cheap in their own right, provided that the housing market continues to improve over the next few years. With no recession on the horizon; this seems a likely scenario as I expect economic growth to pick up nicely in 2017. Both companies should post 10% to 15% earnings growth next year and sell for just over 10 times this year's earnings. This is hardly expensive in a market going for 17-18 times earnings at the moment.
Bret Jensen thinks differently from most investors, and he is asking you too as well. In his newest reports, he reveals his number one growth stock to buy now and reveals compelling research why this stock, and 5 others, are about to hand their shareholders massive paydays. There's still time left to invest before these stocks explode higher.
472 total views, 1 views today